Helen and Mark's Roaring Wedding in Squamish
As a passionate Whistler wedding photographer, I've had the pleasure of witnessing countless love stories through my lens. Every wedding possesses its unique charm, but once in a while, you stumble upon a celebration that feels more like an incredible adventure. Helen and Mark's Squamish wedding, featured in the Fall/Winter 2023 issue of Today's Bride, was one such unforgettable journey, and I'm thrilled to take you on their incredible ride.
A Love Story Across Continents in Squamish
Helen and Mark's love story had an international twist. They first met while working as snowboard instructors in Austria, and their connection grew over time, spanning countries and years before they finally got engaged and settled in beautiful Whistler, B.C. Here, surrounded by the stunning mountains, their epic Squamish wedding adventure was about to take flight.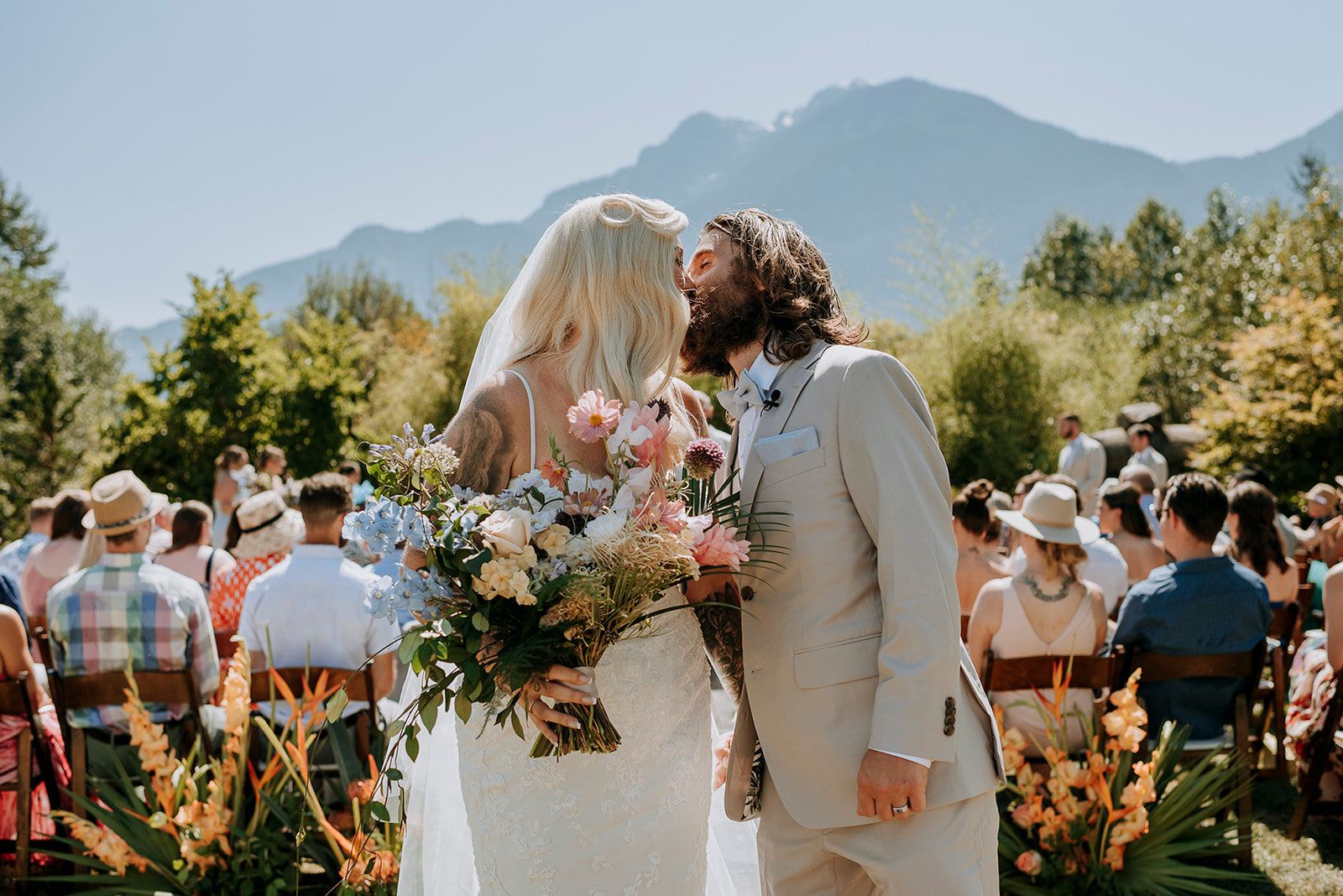 Unveiling the Magic in Squamish
For Helen and Mark, their Squamish wedding day was a whirlwind of emotions and unforgettable moments. The big room reveal, the live band's soulful tunes, the joy of the party, and the freedom of the dance floor all held special places in their hearts.
The Perfect Theme: Jurassic Park
Every love story is unique, and Helen and Mark's was no different. They described themselves as a "silly" couple who wanted a wedding that was a true reflection of their unconventional and shared interests. Their choice? Jurassic Park. Helen shared, "We both just really love the movie Jurassic Park. We quote it all the time and watch it so much. Our shared love for the Jurassic Park movies is something we cherish and enjoy together. Jurassic Park is almost like our main shared interest! So, to us, it made perfect sense to go with a Jurassic Park theme for our Squamish wedding at Cheekeye Ranch. We wanted it to be memorable, unique, and, most importantly, a whole lot of fun!"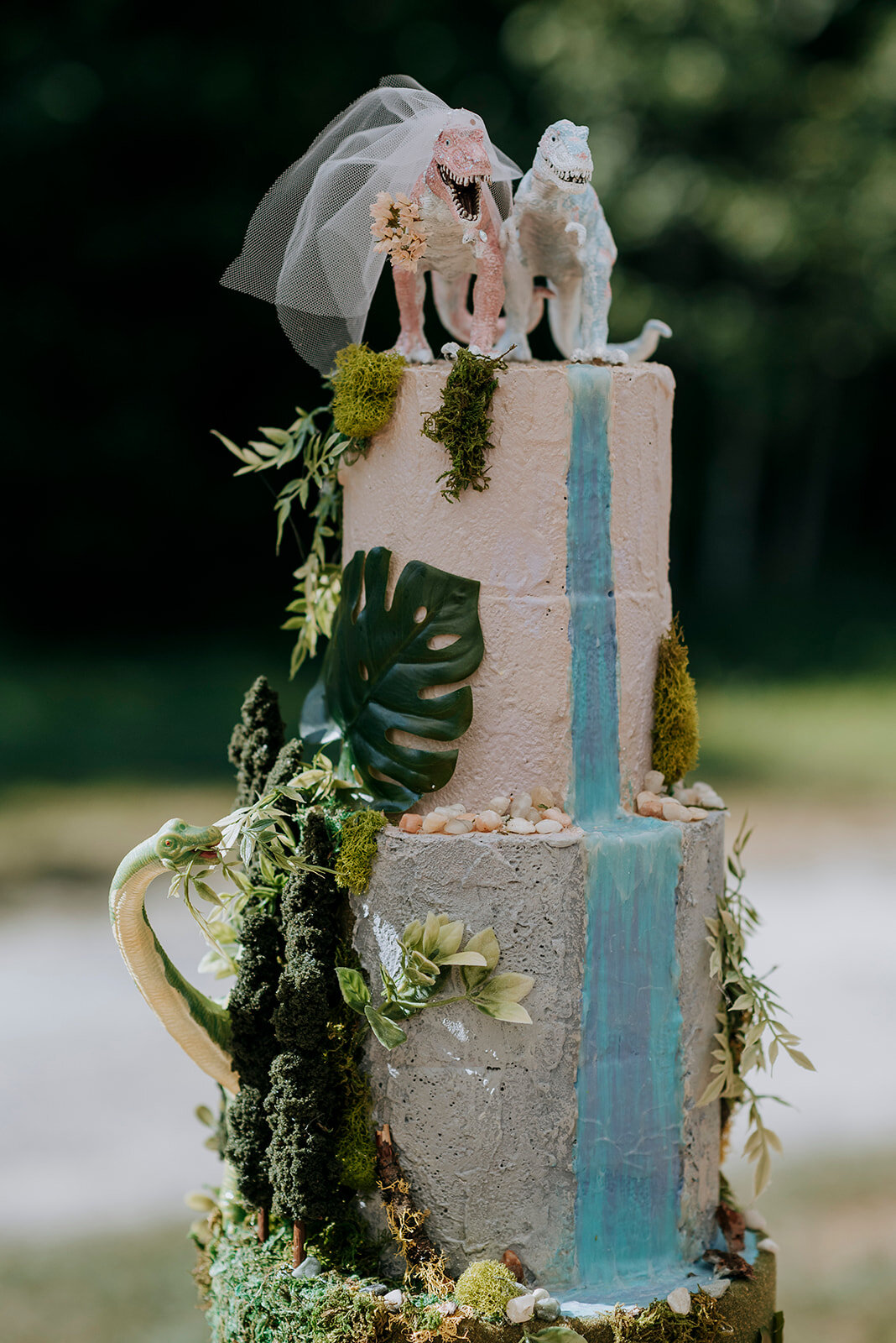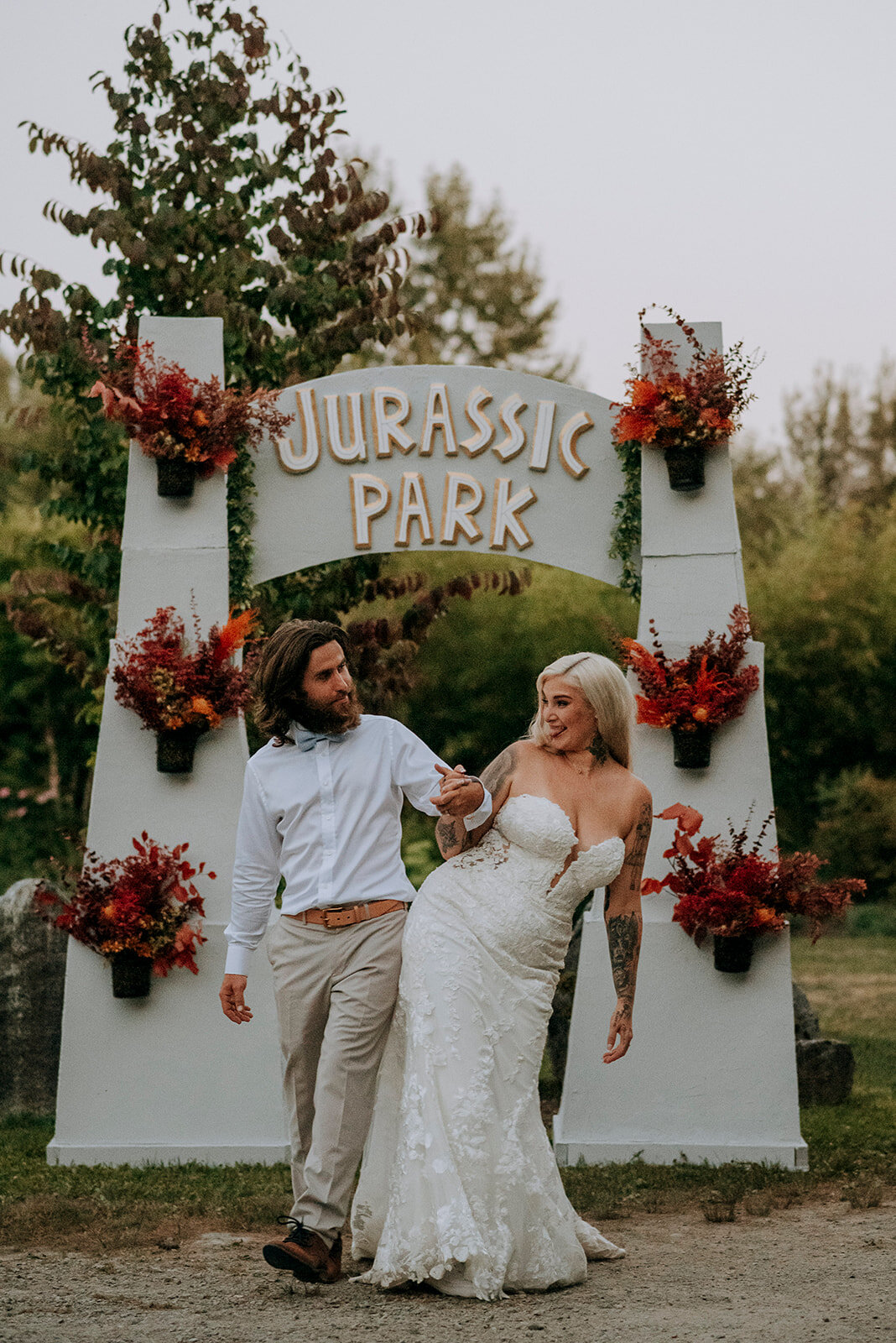 Attention to Detail at Their Squamish Wedding
What made their Squamish wedding truly magical was the meticulous attention to detail. From the creative table names that carried the Jurassic vibe to the playful dinosaur cake toppers, every element contributed to the uniqueness of their celebration. Helen fondly recalled, "The floral arrangements were stunning, and the monstera leaf place cards were a really sweet touch!"
Advice from the Newlyweds
Reflecting on their journey, Helen offered some advice to engaged couples: "I think it's crucial not to get lost in trying to please everyone else. Remember, it's your wedding. Make sure it's everything you want. And as stressful as it can be, it's also a lot of fun to plan. Try to keep it fun and enjoy the process."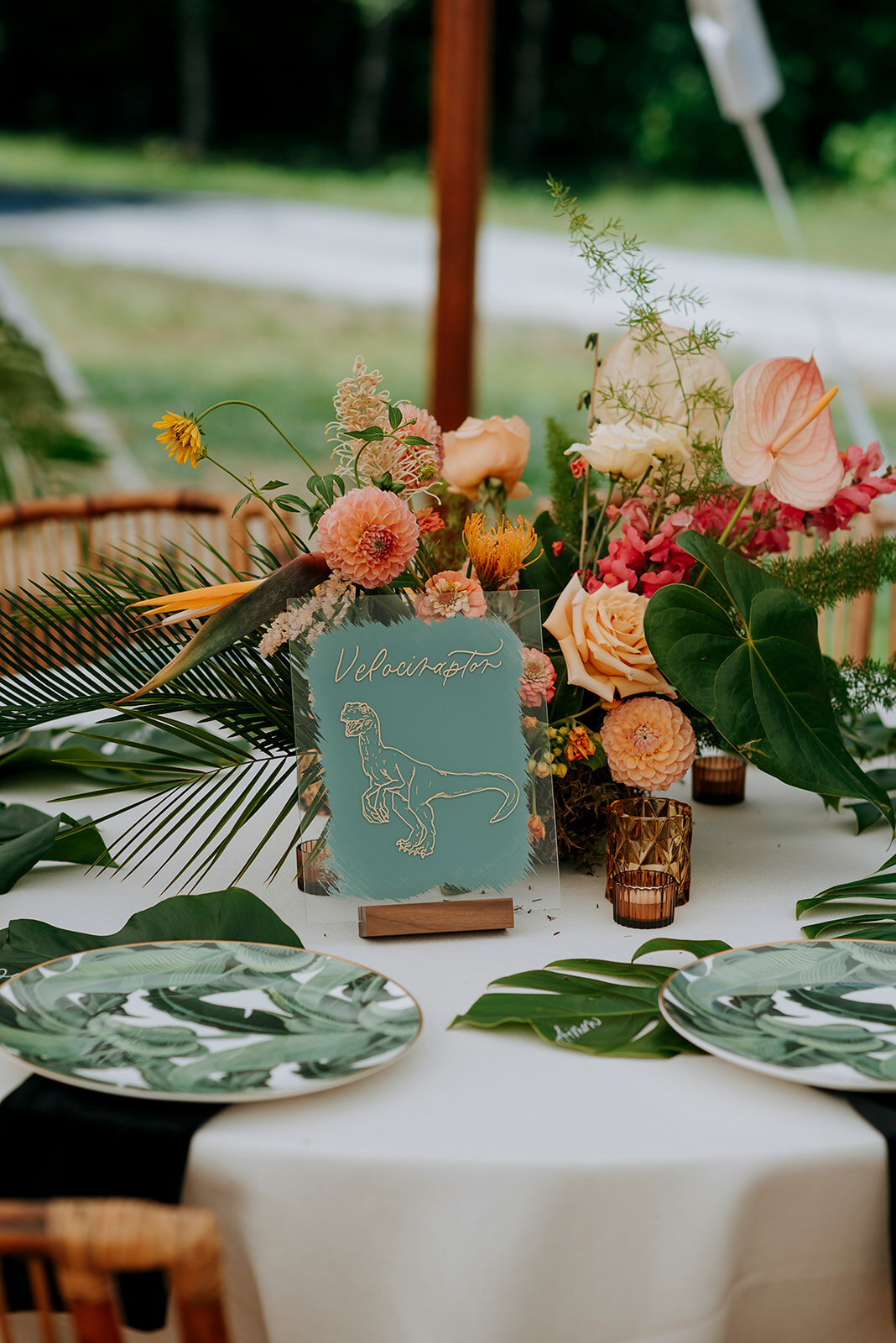 Preserving the Adventure as a Whistler Wedding Photographer
Being part of Helen and Mark's extraordinary Squamish wedding day was a true privilege. As a Whistler wedding photographer, I cherish the opportunity to capture the unique love stories of each couple I work with. If you're on the hunt for a Whistler wedding photographer who can transform your wedding day into a memorable work of art, I'm here to make your dreams a reality. Get in touch with me today, and let's embark on an adventure together to preserve your one-of-a-kind love story.
Vendors:
Photography: Janice Power
Video: Rachel King Films
Venue: Cheekye Ranch, Squamish, B.C.
Planning: Weddings by Bluebird
Bride's Gown: Martina Liana
Groom's Suit: Indochino
Bridesmaids' Dresses: Drenusha Xharra
Groomsmen Suits: Zegna, Harry Rosen
Makeup: Whistler Wedding Makeup
Hair: Renee Africa Hairdressing
Décor: Bespoke Decor
Florals: Celsia Floral
Calligraphy & Signage: The Meadow Lane
Rentals: Event Rental Works
Catering: Edge Catering
Tents: Island Glamping Adventures